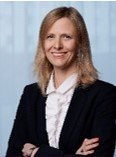 Milena De Simone
Partner at EY
Milena De Simone (-Fierz) joined E&Y Geneva office in 2003 and is an Assurance Partner specialized in the banks, securities dealers and

directly subordinated financial intermediaries.

Milena transferred to E&Y London office between September 2009 and March 2011.

Milena has a master's degree in economic sciences, section management, HEC Lausanne and is Swiss Certified Accountant.

Personally accredited by the Swiss Financial Market Supervisory Authority FINMA for the audit of banks, securities dealers and financial intermediaries directly under supervision of FINMA

She is a member of EXPERTSuisse.

Milena's teaching skills are finally internally and externally recognized being a teacher at EXPERTSuisse and an internal teacher with respect to regulatory challenges and our internal audit methodology.