Do you know the difficulty of recruiting talent, the resources that this represents, the extreme frustration felt when these young talents leave the company after a few years, despite the investment of hundreds of thousands of francs made in it? This article might interest you.
Finding and retaining young talents is a real challenge. Retaining staff, especially young talents, has become extremely important, especially when you consider the costs of staff turnover and the cost, in money and time, of the recruitment process.
In fact, according to a recent report written by Intelligence Group [1] , the recruitment process takes, on average, 62 days per hire. As for costs, according to Adecco Group [2] , companies would spend an average of $ 25,500 on recruiting, $ 37,500 on integration costs (trainings, systems and HR time) and $ 44,700 on indirect employee retention costs.
If we also consider that, according to Swiss Federal Statistical Office [3] , one out of five people quit their job in a year, we quickly understand how problematic the situation is.
Is this new generation really that lazy?
However, is this new generation really that lazy? Are today's young adults really so disconnected from the professional world?
According to Deloitte [4] , three quarters of millennials do not feel valued at work. Indeed, according to their point of view, Swiss companies do not assume enough social responsibilities and act only for their own interests. According to this study, the new generations tend to be more attached to the team or the manager than to the company.
Changes in the professional world
We can see that changes in the professional world are rapid. The current crisis has accelerated digitization through compulsory remote working and, in order not to lose future opportunities, it is crucial to adapt to the new expectations of customers and employees.
" Digital skills are key. There are real needs in terms of coding, integration of the different systems between them, and Community Management Marc Benninger – HR Today Editor-in-Chief
According to Academic Work Switzerland [5] , retaining young talents, is not important only to save human resources' money and time. In fact, inspiring and attracting new generations has become a fundamental factor of competitiveness.
The most sought-after young talents
Since young talents are in great demand, it is important to put in place suitable recruitment strategies. For example, having flexible hours and being able to take advantage of a series of internal trainings is a real asset today. Indeed, according to HR Today [6] , 54% of young people prefer a company that gives them the opportunity to improve their knowledge, especially digital, rather than working for an employer who does not encourage them to progress in their profession.
"Work climate, corporate culture, authentic environment, consultation and listening are key factors in retaining young talents Marc Benninger – HR Today Editor-in-Chief
Also, according to ManpowerGroup [7] , 69% of young adults in Switzerland are ready to continue learning for the rest of their lives, investing their energy, time and money in new training. Four out of five millennials consider this to be a very important factor when looking for a new job.
The criterion of the reputation of the employer is also important.
" We know it. As we can take a look at the Instagram profile of our next meeting, we will also scrutinize the LinkedIn profile of a potential employer and that of our future colleagues. The figures also confirm this, because 52% of candidates first consult the company's website and social networks (source Randstad Employer Brand Study 2021*, available free of charge) before applying. This question is unavoidable today: is the company's culture reflected in a transparent and relevant way in a world driven by digital? »Anou De Busschere – District Manager at Randstad Switzerland
Is it enough to offer a good salary today?
Providing a good income is not enough today.
The atmosphere at work is a prime factor to consider as an employer.
"In Switzerland, especially the youngest (18-24 year olds) are looking for well-being: this comes first and foremost through a pleasant working atmosphere and the balance of work life in second place. Salary takes an important place past the 45-year mark. »Anou De Busschere – District Manager at Randstad Switzerland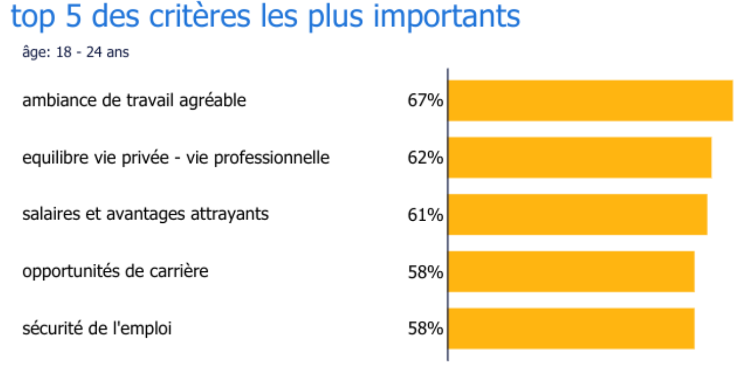 What 123 Next Generation® can do about it
Our training helps companies to retain and attract young professionals. They thrill the teams around a face-to-face educational experience outside the office, ensuring that their young talents develop and remain in the long term, engaged and satisfied in the company. Soft skills, the culture of feedback, follow-up are all key points of our targeted nextgen support. Management and managers are involved. We do tailor-made training.
123 Next Generation® helps companies that want to help the Next Gen; in particular through facilitated digital content. We thus produce for the sponsor videos, LinkedIn and Instagram posts so as to recognize the sponsor's investment in the nextgen. The objective is thus to improve the visibility of the employer brand of the sponsor, the recruitment & retention of talent, to improve the impact and visibility thanks in particular to digital content.
In particular, we have training courses that could interest your employees on "managing your personal marketing and digital presence", "succeeding in parenting alongside your career", or even "developing public speaking and stress in public".
Would you like to know more about becoming a sponsor and providing your employees with these training courses? Email us at welcome@123nextgeneration.com or call us on 022 552 22 40.
You can find more information on our website: www.123nextgeneration.com. You can also join our LinkedIn, YouTube and Instagram network "123nextgeneration". We look forward to meeting you soon.
* randstad.ch/etude Randstad Employer Brand 2021 study, available for free