According to a recent study conducted with 694 professionals in the field, 68% of marketers say that video has a better return on investment than Google Ads and, according to 74%, than static imagery. [1] Discover some video ideas to grow your business through your brand image and your talents.
Why is video one of the most powerful digital tools?
Video is now an essential tool to interact effectively with your target. This marketing support is indeed more meaningful, dynamic and playful compared to the simple photo or a few lines of text.
Whether your market strategy is B2B, B2C or C2C, video allows you to:
Communicate better with your target audience
Attract potential prospects, enhance your brand, increase your visibility and attractiveness
Attract talent and develop your employer brand
According to WSI [2] , video marketing is not only an excellent tool for the engagement of your website and social networks but it is also highly appreciated by search engines. For example, Google determines the quality of your website also based on the time your users spend on your platform. As a result, thanks to the video support the time of their visit increases and, with a good SEO, you will have more chances that Google places you in its first results.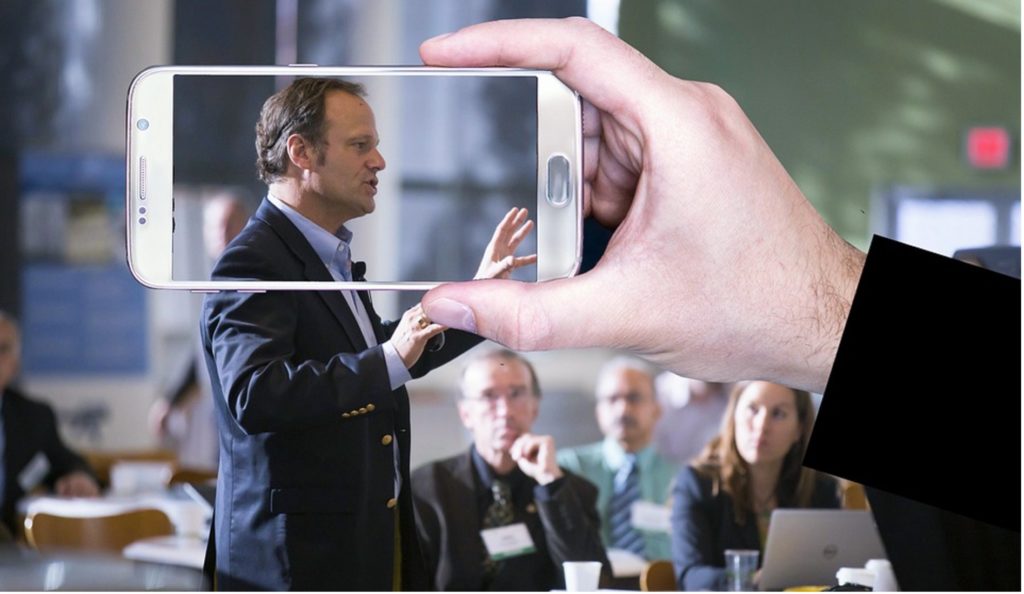 What video content can strengthen your employer brand?
As we have seen, video has a strong impact on the visibility and attractiveness of your employer brand. But what content to create to attract new talent and customers? We offer three examples.
According to the annual study "Randstad Award Switzerland" [3] the atmosphere at work is the second criterion that talents consider to define whether a company is interesting. So why not have your employees speak directly about your corporate culture? Give them the floor to discuss their development, their missions and their emotions within your company.
"Meme-type video content to support a corporate message works very well in B2C as in B2B and can even go viral" testifies Harold Gardas – Co-founder and CEO at KÖM
Interview with your CEO and managers
Let your audience know who runs the company in a fun format. This type of video is very useful to show the human aspect of your business, in addition to presenting your social impact and the values of your brand.
Why not use the video to describe the vacancies? Showing who your next colleagues and managers are going to be helps your potential talents project themselves and become familiar with your brand and its values.
To differentiate yourself from the competition, you can also ask your future candidates to introduce themselves with a 2-3 minute video. Indeed, this will make it possible to see their motivation and have a first more human impact than simply sending the CV.
The limits of video
Video is a powerful vector of communication that can boost a brand, but be careful, you have to set up a process to support your ambassadors in order to avoid any slippages.
"Beware of the bad buzz, beware of the dosage" specifies Harold Gardas – Co-founder and CEO at KÖM –- referring to the video posted by an employee of the company "Le slip francais" which infringed the brand.
Another element of attention would be the "corporate bullshit" image removed from the reality perceived by employees. The risk would be to see a negative buzz carried by dissatisfied employees in contradiction with the image conveyed.
Conclusion
Video is a powerful communication tool and talent management is at the heart of the branding process. Indicators such as turnover, anonymized surveys, audits can help you see the perception of your employees on your brand. There is a real opportunity to involve your talents upstream in your video messages, to involve them in building your brand. And when we talk about talents, we are talking about multi-generational talents.
"A caring environment and a strong corporate culture support growth. I am very proud that KÖM has managed to maintain these two key elements throughout our rapid growth. We have little turnover. » answers Harold Gardas – Co-founder and CEO at KÖM
At 123 Next Generation we usually tell our customers that we have to take care of the inside to make it shine on the outside.
At 123 Next Generation , we help businesses achieve each of these video formats. We support you in the performance of your company through the development of your communication and your intergenerational talents. We help you in key subjects such as the acquisition and retention of your talents, your employer brand, your digital communication, the development of skills, in particular soft skills, multigenerational transmission, your corporate culture, in particular for more than visibility and attractiveness, performance and sustainability, corporate responsibility.
We offer tailor-made consulting, communication and training services, dedicated to companies and their talents.
Want to know more ? Email us at welcome@123nextgeneration.com or give us a call on 022 552 22 40 and let's discuss your needs.
We look forward to meeting you soon.
---
[1] https://www.travailler-en-suisse.ch/top-10-entreprises.html
[2] https://wsigabs.ch/pourquoi-le-video-marketing-est-indispensable-pour-votre-SME/
[3] https://biteable.com/blog/video-marketing-statistics/